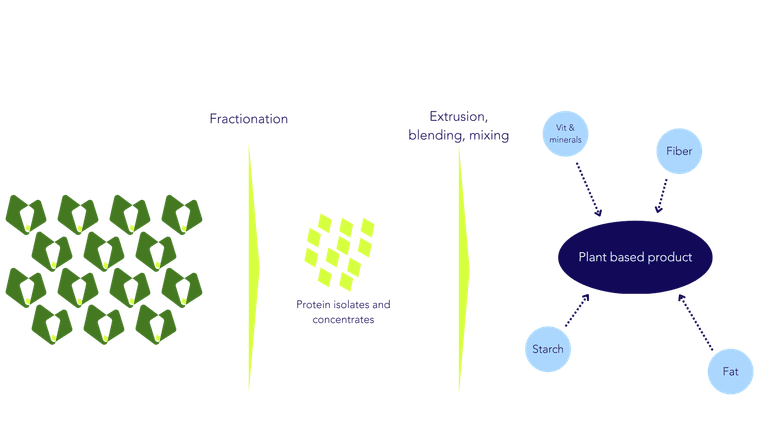 Plant based proteins is nothing new. "Burgers" and "Bolognese" made from vegetables and legumes have been around for decades. However more recently there has been a concerted effort to improve the taste, texture and overall experience of eating plant-based proteins. The key steps involved to create plant based proteins are:
Source: Select crops based on desired product characteristics
Raw materials: Select feedstock, develop crops
Production: Grow and harvest crops
Upstream processing: Milling, grinding, fractionation of crops to extract proteins
Primary output: Primary ingredients (eg: protein isolates or concentrates)
Downstream processing: Extrusion, blending, mixing of primary ingredients
End Product: Plant-based meat, egg, dairy
Improvements at each stage of this process has helped to bring plant based products closer to their animal protein equivalents in taste, texture, cooking experience and nutrition however they are still at times falling short of consumer's expectations.
Opportunities
Short-term opportunities available
Scalability and cost parity assessed as being very achievable
Biomimicry likely to be achieved through hybrid product combinations: plant-based & recombinant or plant-based & cultivated
Crop innovation and crop development should be a key area of focus to be looked at in tandem with strict EU regulatory approval
Consumer acceptance of plant based proteins is an additional benefit of plant based proteins. Perceived by consumers to be easier to understand and accept there is less education and convincing required to achieve adoption. Nonetheless, consumers are primarily led by taste and until we are able to meet consumer's expectations, plant-based products will continue to face an uphill battle.