Alternative Proteins and Novel Foods
The alternative proteins industry has emerged over the recent years as a response to the global climate crisis. Animal agriculture alone accounts for 15% of global emissions. A recent report by BCG estimated that if we continue to grow as predicted (taking 11% of alternative protein market share by 2035) by 2030 the reduction of carbon emissions would be equivalent to 95% of the aviation industry.
There currently 3 key verticals that have emerged looking to take on the challenge of replacing animal proteins in the food chain: Plant based, single cell fermentation, recombinant fermentation and cultivated cells.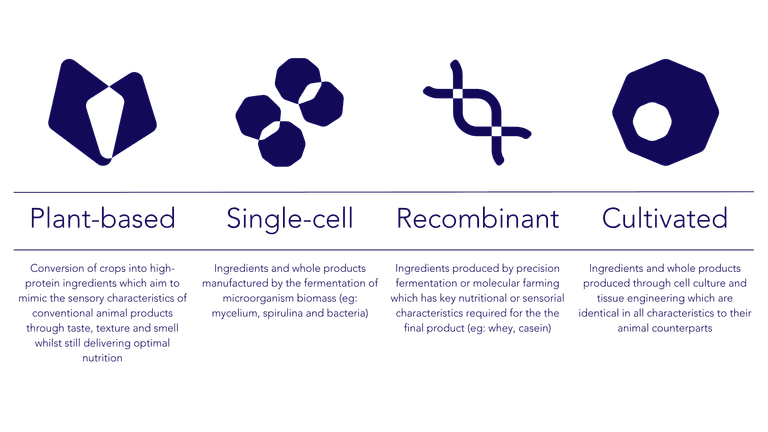 Although the most established of the 4 verticals, plant based foods have only recently started to refine themselves to appeal to a larger and more discerning audience. Oftentimes plant based foods have lacked appeal due to taste and texture. However over the last decade we have seen a tidal wave of new brands innovating in plant protein composition seeking to match the sensory experience of animal products as closely as possible.
As plant based products become more and more ingrained in our diets the next frontier will require companies to focus on the nutritional impact their products can have on large scale populations.
One of the longest standing alt-pro brands falls into this bracket - Quorn products are made from a fungi called mycelium through a fermentation process. There are 3 categories of microorganisms used for biomass fermentation: fungi (eg: mycelium, yeast), algae (eg: spirulina) and bacteria. The type of microorganism used will determine the functional properties of the end product. In the last few years we have seen a wave of activity in this vertical as it is emerging as a high growth opportunity. Large scale production of single-cell products has been demonstrated in other industry sectors (eg: biofuels and livestock feed).
Much like plant based and single-cell technologies, recombinant is also not a new technology. Recombinant protein technology has been used in the pharmaceutical industry for years, to produce growth factors, cell culture media, enzymes, feed, detergents etc... It is only recently however that companies are looking at this technology as a way of producing proteins. Precision fermentation and molecular farming have emerged as the most promising of these recombinant technologies.
Precision fermentation requires the microorganisms to be fermented in bioreactors so as to produce the desired targeted protein.
Molecular farming involves engineering crops to produce the desired protein, thereby using crops as 'bioreactors'.
The newest of the four verticals, cultivated proteins has experienced a rapid expansion of the last few years. The technology involves growing fully formed meat products from engineered stem cells. These product aim to mimic the exact sensory characteristics of animal produce - having the same smell, taste and textures you would expect from conventionally grown products. Regulatory approval and commercial scalability are two of the main challenges this sector faces. As a medium term opportunity brands have started to explore hybrid products which would incorporate small amounts of cultivated proteins or fats into plant based, recombinant or single cell products which could radically improve the sensory characteristics of these products while limiting the need for large quantities of cultured cells to be produced.